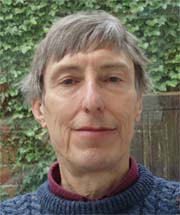 The largest part of my life has been academic, working mainly on Einstein's theory of gravitation at the universities of Cambridge, York and Southampton, where I was professor of Applied Mathematics. I left that post in 1999 and since then have worked freelance on the connections between science and spirituality — producing four books and a variety of essays, while helping in charitable foundations related to this area. I am based in Southampton, UK, but happy to run workshops throughout SE England, or residential courses elsewhere.

This interdisciplinary work has been a passion throughout my life, taking shape at Cambridge when I was a member of the "Epiphany Philosophers" — an informal group that combined Christian practice with a scientific/philosophical approach to religion and spirituality. At that time it included the philosophers Dorothy Emmet and Richard Braithwaite. Quantum theory, including quantum cosmology, entered my activities intermittently, with work on both its philsophical and its technical apsects. In addition, while I was at Southampton a chance conversation led to my spending a couple of years working on the physics of the human brain. These topics started to build up a view of the world in which cosmos, brain and spirit made a unified system.

A further ingredient was contributed by my wife, Isabel Clarke, a Consultant Clinical Psychologist in the UK Health Service. In 2001 she produced the multi-author book Psychosis and spirituality, consolidating the new paradigm 2010, which brought a radical psychological dimension into my understanding of spirituality — and of living it.My current attitude to "Life, the universe, everything" was published last year as Weaving the Cosmos, available via amazon.co.uk from £6.89.

I have a new blog, which was on this page but is now at http://blog.scispirit.com/

.